IJEBULAND INTER SCHOOL DEBATE COMPETITION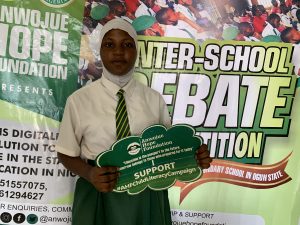 Anwojue Hope Foundation in collaboration with Obaneye Asiwaju Okunrin Akile Ijebu 83,84 &85  organized Ijebu Land Inter-School Debate Competition.
On the 8th of February 2023, Anwojue Hope Foundation had her first outing of the Year which was an Inter-School Debate Competition with the support of Obaneye Asiwaju Okunrin Akile Ijebu 83,84 &85
As an NGO which is passionate about growth and development of the Society, AHF chose to start this Year with the students.
Ten (10) schools were represented from Ijebu-ode and Mushin, all the participants from each school delivered thier part excellently.
It was difficult picking a winner but at the end Ijebu-ode Grammar School came third, Anglican Girl's Grammar School came second while Our Lady of Apostles came first.
The Winner was awarded a cash price of 50,000N while the school that came second and third got 30,000 and 20,000 Naira respectively.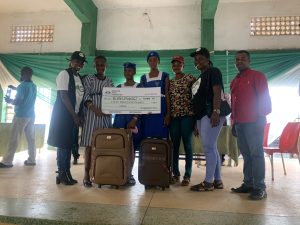 The winners also got gifts like travelling boxes, water drums, toasting machine and pressing Iron from Obaneye Asiwaju Okunrin Akile Ijebu 83, 84 & 85
AHF thank you for your partnership and support.
We solicit for more from well-meaning Nigerians to put smile to the face of more.
The event had the presence of Representatives from ministry of Education, We had forty-five (45) students, Eight teachers, a retired teacher of English who also served as the Chief Judge.
We are  also grateful to the members of Obaneye Asiwaju  Okunrin Akile Ijebu 83, 84 & 85 for their presence and partnership. This partnership can not be overemphasized.
This event wouldn't have been a success without our collective efforts, we're grateful for identifying with Anwojue Hope Foundation.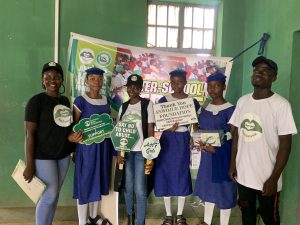 At Anwojue Hope Foundation, we will continue to advocate for student's participation and involvement in community engineering.