BE A PART OF OUR FOOD DRIVE INITIATIVE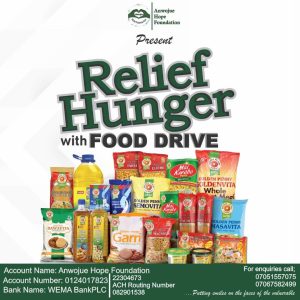 In Nigeria, hunger is one of the major issues that affect the citizen and that's one of the reason we are ranked second poorest in food affordability globally.
Presently, the situation has gotten worse as we have people who walk in and out of the office to plead for what to feed their family.
The truth is, we can not provide everyone with food at the moment as we have other projects at hand but, then we came to a conclusion to have an emergency call tagged FOOD DRIVE TO END HUNGER.
We plead to you to donate non perishable food or money to purchase non perishable food items. We promised to give account for every dime spent on this project.
Let us build a FOOD BANK together and make someone happy…
For more information
Contact 07051557075