IJEBULAND ILEYA FOOTBALL CHAMPIONSHIP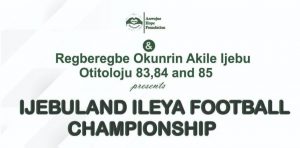 We are excited to announce that on 14th of May 2022, at Sport Complex Ijebu-Ode Township Stadium, the draws of the Ijebuland Ileya Football Championship to be hosted by Anwojue Hope Foundation & Regberegbe Okunrin Akile Ijebu Otitoloju 83, 84, and 85, will be held.
The event is the first of its kind in the history of the Anwojue Hope Foundation.  The competition is to serve as social interactive session among various youth in Ijebuland and is designed to fish out the hidden talents among the youth clubs. The competition will also eradicate social-vices such a as cultism, thuggery and sexual harassment among the youth. On our side, our purpose of the tournament is to raise funds to shed more light on what we do while giving us the opportunity to socialize with some of our most important clients and beneficiaries. The tournament will be attended by some of the major Nigerian dignitaries, Ogun state representatives, the King of Ijebuland and few Glo Premier league Players.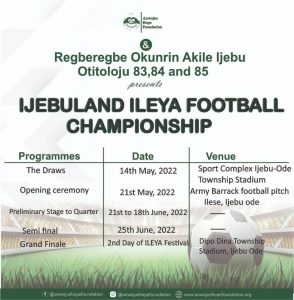 The opening ceremony will take place on the 21st of May 2022 at the Army Barrack football pitch, Ilese, Ijebu ode. The tournament will be played in four groups of 4 teams, with each team playing each other, 3 points will be awarded for a win and 1 point for a draw. In the event teams are tied on points goal difference will be taken into account. The top two teams in each group will proceed to the quarter finals. All these is expected to be played between the 21st of May 2022 to the 18th of June 2022.
In the Semi-finals and Final in the event of draw at full time a penalty shootout will take place to determine the winner.
The grand Finale will take place at Dipo Dina Township Stadium, Ijebu-Ode on the day after Ileya day..
Anwojue Hope Foundation are looking for more sponsors and donations for the tournament. It's a great opportunity for companies to gain loads of coverage and also donate to charity.