HEALTH AND FOOD MATTERS
ANWOJUE HOPE FOUNDATION SUPPPORT 200 FAMILIES WITH FREE PACK OF FOOD AND ASSISTIVE DEVICES TO THE LESS PRIVILEDGE
Anwojue Hope Foundation (AHF) encouraged the communal of Ijebu-Ife community on the importance of proper nutrition and health to their general wellbeing.
AHF gave the charge during a community outreach in Ijebu-Ife on Saturday, where it was stressed that optimal healthcare is non-negotiable even as it said proper nutrition is "like a medicine in your body; you eat well, you live well."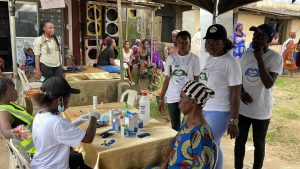 The event had over 200 people in attendance, the foundation gave out assistive devices such as crutches to physically challenged persons. The foundation also provided free medical checkup and consultation sessions for participants like blood sugar, blood pressure, urinalysis, among others.
At the outreach, a member of the foundation and an educationist, Temiloluwa Taiwo, while speaking on 'Health and Nutrition,' noted that despite the dire straits of the economy, which has caused many to cut down cost, it is important not to compromise their nutrition and health.
In his presentation on 'Child Rights and Abuse,' Austin Kebi Ebibo, a social worker and representative of Family Development, a community-based organization, harped on the rights of children including right to education as enshrined in the Child Rights Act. He also called on the participants to frown out and endeavour to stamp out all forms of the menace child abuse, while sharing with them on signs of child abuse and what to do when such cases arise.
At the end of the event, the foundation also gave out free packs of food for families.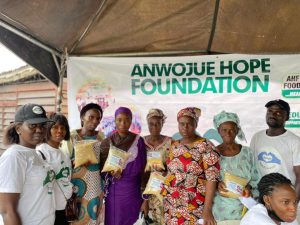 Other members of the foundation at the outreach include the Program Officer, Samuel Adeniyi and Assistant Program Officer, Funsho Ojokobirikale.